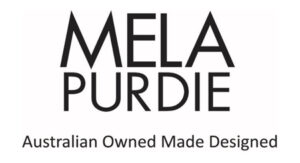 Mela Purdie at Frontline Designer Clothes
Since 2001, the brand's vision has been to simplify women's wardrobes for the way we live today. Our mission is still the art of confidence in comfort.
Continuing to develop upon a heritage foundation of wearable basics, Mela creates clothes that are the canvas to a woman's individuality. Evolving inspiration of flexible design and sensual fabrications continues to offer women today a framework to dressing that empowers a sense of ease.
Mela Purdie has a strong commitment to manufacturing in Australia and supporting local producers. Based in Sydney and privately owned, the brand continues to support independent retailers with dedication and integrity.
Mela Purdie – About
Mela Purdie is a range of women's clothing that is all about luxurious and simple clothing with a philosophy of 'less is more' and a philosophy that is "clothes that travel with you".  In our modern lives time can be a real restraint and this has led Mela to believe that a core wardrobe of comfort basics is essential to help today's woman get going each day.
Mela Purdie is always looking for quality, well cut basics for her wardrobe. These essentials give her a platform for individual style while working, on vacation or enjoying time with her family. Long destination travel requirements inspire Mela to keep developing a range that she says will 'shrink my travel bag and make dressing easy'. These clothes allow you as a woman to travel light and ensure the right look for effortless chic on the move.
You can depart in comfort, arrive in style, wrap and layer for a fast change. The clothing collections are comfortable in all climates, so you're always appropriately dressed. A combination of essentials, urban coordinates and fashion highlights complete a look that is travel ready and street smart. The collection and essentials are available through all seasons and follow the simple concept of layering for all occasions.
The Mela Purdie range changes from season to season.